PLANNING YOUR VISIT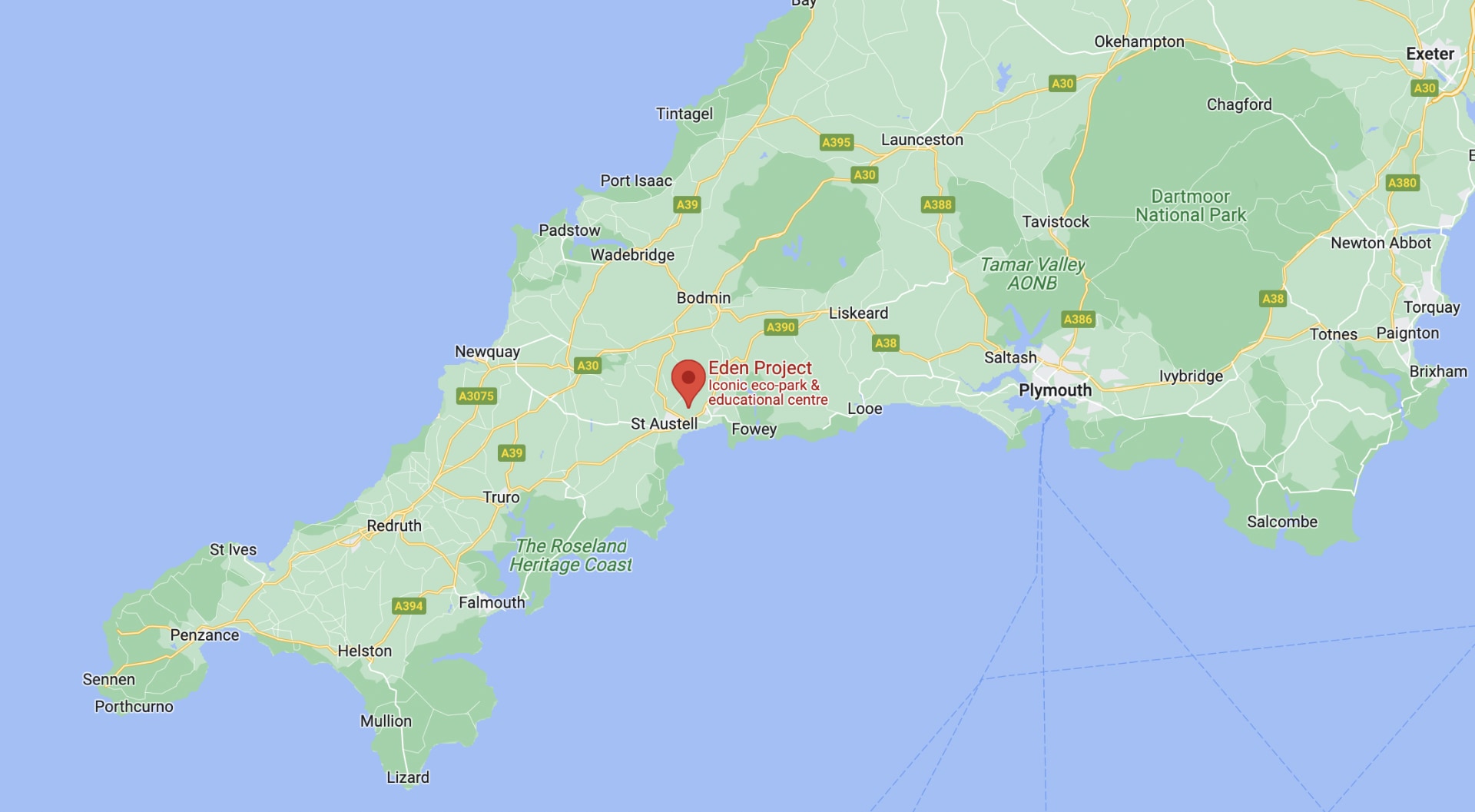 Anthropy will be held at:
The Eden Project, Bodelva, Par PL24 2SG
Accommodation:
Eden's local town is St. Austell. There is a variety of accommodation ranging from self-catering, B&B, hotel and motel style. Additionally, there are a larger number of hotels in Newquay, 30 minutes' drive, and more in Bodmin, approximately 20 minutes' drive. All accommodation is booked at the individual participants own risk. Anthropy accepts no responsibility for accommodation or travel arrangements.
To check hotel availability, take advantage of Anthropy preferable rates, and for more information about accessible rooms please contact the below address for group and individual bookings. Please note that some hotels may advertise as fully booked due to rooms being on hold for Anthropy attendees.
+44 (0) 203 544 2300
We recommend booking your accommodation early to secure availability.
Travel:
Please consider offsetting your travel emissions with Ecolibrium by following this link: https://ecolibrium.earth/travel-carbon-calculator/.
Taxis & Car Hire
Please note there are limited taxi and car hire services in the St. Austell area and others available in Newquay. We recommend booking your taxi's or private shuttles as far in advance as possible.
Par/St. Austell based taxi firm:
Yeos Taxis - 01726 814095
White River Cars 01726 76244
Gary's Taxis 07989 963372
Coastal Cars 017260 832872
Star Cars 01726 66636
A2B Taxis 01726 66600
Carl's Taxis 07544 101677 / 08009550850
Spot on Cabs 01726 77877 / 66999
C&C 01726 63568
Ace Cars 01726 817627
There are a small number of car hire companies. This link illustrates a general map-based search of those operating in the area: https://www.google.com/maps/search/car+hire/@50.3850803,-4.904392,11.11z
For larger parties, the following search illustrates mini-bus services:
https://www.google.com/maps/search/mini-bus/@50.3849121,-4.9043925,11z/data=!3m1!4b1
Anthropy cannot accept any responsibility for transport arrangements
Corporate travel
For assistance in booking your corporate transportation during the event, such as taxi's and hire cars, please email
Give Yourself Time
Registration opens at 10:30 on 2nd November, 08:00 3rd &, 08:30 on the 4th. Please arrive at least 30 minutes before the first session to accommodate check-in requirements.
By car
Due to the constraints of localised transport, you may wish to attend Anthropy by car. If this is the case, please consider offsetting your travel emissions.
Just outside St Austell on the south coast of mid Cornwall, Eden is well signposted from the A30 from Exeter and the A391/390 from Plymouth.
If you're coming from outside Cornwall, take the M5 southbound to Exeter, where the motorway splits. Take the A30 and exit at the Innis Downs junction (A391), then take the signs for Eden.
Using a sat nav to find us
Please note: Some sat navs direct traffic along narrow roads to get to Eden. For example, westbound traffic from the A390 is sometimes taken from St Blazey via Cornhill Road to the Eden Project. We do not recommend taking this narrow route. It is better to continue to the A391 and follow the signs to Eden from there. 
Car share your journey to Eden
If you fancy some company, want to save money on fuel or reduce your carbon footprint, you might find someone to share your journey through the national Liftshare network.
Parking
There is ample free visitor parking at Eden. From the car parks, you can either walk down to the visitor entrance and ticket desks or take a free park and ride bus (temporarily suspended during the coronavirus pandemic). 
Visitors are welcome to park motorhomes or campervans in the car park, and Eden can accommodate these in the coach park if they are oversized.  Unfortunately, no overnight parking is permitted.
Electric vehicle charging points
Eden's 22kW AC charging points for visitors are located in the Banana Car Park, and require use of the Mer Connect app, available via download for iOS and Android. We advise downloading the app ahead of your visit to ensure a speedy plug-in on arrival. Find instructions here.
You have the choice to charge as a guest user or registered user within the app. Our charging tariff of 50p/kWh is in line with current public charging rates and covers ongoing operational, maintenance and energy costs.
The maximum stay on our EV charging points is 4.5 hours or to full charge. Thereafter, an overstay fee of 5 pence per minute will apply upon full charge being reached. This is to ensure maximum utilisation and fair access to charging points for all users.
To ensure an enjoyable and relaxing visit, we simply ask EV users to observe the Eden Project's basic principles of EV charging etiquette:
Be considerate of other users on the day. At peak times, please use discretion as to how much charge you might need, particularly if others are in desperate need of some juice!

Keep the area tidy. Please bring your own charging cable and leave the charging point as you found it.

Report any faults or issues using the Mer helpline on (+44)020 3884 2768 or via email support.uk@mer.eco.
By bus
First Group's number 27 service travels directly to the Eden Project and there are connecting routes across Cornwall. Please visit the First Group website to plan your journey.
By train
Eden is just a few miles from St Austell railway station, which is on the main line from London Paddington and is well served by buses between St Austell to Eden. You could also take the train to Luxulyan, Bugle or Par, for a more scenic journey or to continue your trip on foot or bike.
Check train timetables and plan your journey via:
On foot or by bike
We'd love you to visit Anthropy by foot or bike. Once you're there, they have bike racks and luggage lockers for you to use.
By air
The nearest airport to Eden is Newquay Cornwall Airport, which is served by flights from across the UK and some European cities.
Getting to Eden from Newquay Cornwall Airport
Take a taxi: the airport's official taxi service is Coastline Travel (tel: 01637 880006).
Food and Drink:
Food and drink are not provided as part of the Anthropy delegate packages but will be based on the Eden Project catering facilities already on site and available for your purchase during your attendance at the gathering.  Their food is responsibly sourced, fairly traded, single-source, seasonal and/or local and freshly made.
Eden caters for vegetarians, vegans, meat-eaters, gluten-free diets, and those with other dietary requirements. Please tell a member of staff if you have any particular dietary requirements and they'll do their best to help you.
Please note, Eden is a cashless site.
Accessibility:
Assistance dogs
Assistance dogs are welcome at Anthropy and water is available for them around the site. Find out more about bringing dogs to the Eden Project.
Wheelchairs
Eden welcomes all types of mobility vehicles and they also have a number of manual wheelchairs (approx. 40) which are free of charge and available to borrow on a first come first served basis (*booking isn't necessary for the manual chairs*). These are available in the Apple car parks and Visitor Centre. All wheelchairs are routinely cleaned by stewarding staff before after use.
Information for people with visual impairment
Eden has a Braille guidebook available on site that you can use for your visit.  For those with some vision, they have a number of high-powered magnifiers that can be borrowed.  Eden has a text reader that can be borrowed to read and interpret signs.  Anthropy is working with partners to support visual and other needs. If you have particular requirements, please contact Anthropy via our general enquiries e-mail.
Parking
When you drive into the Eden Project please display your Blue Badge clearly if you have one. If you are not a Blue Badge holder but require certain access needs, please speak to a car park attendant on arrival or contact Eden on 01726 818558 prior to your visit.
Eden has three access designated car parks in Apple 1, Apple 2 and Banana. These are not solely limited to those who are in possession of a Blue Badge and can also be utilised by those who have mobility issues, require a wheelchair or have organised access assistance.
If you have any questions about accessible parking and access issues, please call the Access Eden helpline on 01726 818558 or 01726 811911 for the main switchboard.
Accessible parking
There are manual wheelchairs available in Apple 1 car park. To get to the Visitor Centre from Apple 1 and Apple 2 car parks you need to go down a tarmac path. The path is 32 metres long. The gradient is 1:18 with a short steeper section at 1:10.
Drop-off points
Apple 1 car park is available as a drop-off point – for directions just ask any of the car park stewards. If further assistance is required, please call the steward team on 07929 202408.
Visitor Centre
In front of the Visitor Centre there is a covered area. This area has flat level access. There are toilets and a cash point and on the right is the Visitor Centre where you enter the Eden Project. If you need to borrow a wheelchair or would like assistance, please see a steward in the Visitor Centre. Please note, Eden is a cashless site.
Accessible toilets
Accessible facilities are open in the Visitor Centre, the Core building, and the top floor and ground floor of the Link building (in between the Biomes).
A Changing Places toilet is also available in the Visitor Centre. The Changing Places accessible toilet in the Visitor Centre includes a height adjustable changing bench, a hoist system, shower, and space for one person with a disability and up to two personal assistants.
Eden also has ADI toilets on site for the blind or visually impaired: one in the Link and one in the Visitor Centre.